Success Stories
Kenosha County is one of the hottest locations in the region when it comes to new corporate investment. Since 2013, major economic development wins in Kenosha County
have accounted for more than 13,200 jobs, $3.2 billion in capital investment and more than 30 million SF of development. Read here and below about some of the companies that have made the strategic decision to invest in Kenosha County.
These projects are coming from a diverse set of industries, from company headquarters to food processing to advanced manufacturing and logistics. Read about companies with names you know – such as Haribo, Amazon, Uline, Nexus Pharmaceuticals, and Nosco – doing their research and making the decision to locate their new facility, corporate headquarters, or strategic expansion right here in the heart of the Milwaukee-Chicago corridor.
HARIBO
The Company
Founded in 1920 and based in Bonn, Germany, HARIBO is the world market leader in the fruit gum and licorice segment, with 100 million Gold-Bears alone produced daily worldwide. HARIBO, a family-owned company now operated by the third generation, has 16 production sites throughout Europe and employs nearly 7,000 people worldwide.
The Project
HARIBO has selected property in the Village of Pleasant Prairie for the site of its first manufacturing facility in North America.   The HARIBO project, which is expected to be completed in 2020, is one of the largest investments of new operations by an overseas company in Wisconsin history.   The new, state-of-the-art facility is expected to be approximately 500,000 square feet.
The Outcomes
The new development by HARIBO is expected to be an approximately $242 investment and bring 400 jobs to Kenosha County.
HARIBO's new operations in Pleasant Prairie will be one of the largest confectionary production facilities in the nation.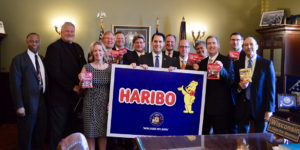 "HARIBO has already been in the process of selecting a location for a first manufacturing facility in the USA for several years. In an elaborate process, we have examined many different sites. We are very excited to announce this important decision today."
– Hans Riegel, Owner, HARIBO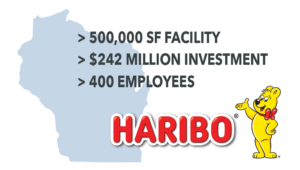 Nexus Pharmaceuticals
The Company
Nexus Pharmaceuticals is a woman-owned, privately-held pharmaceutical company based in Lincolnshire (IL) that produces specialty and generic injectable drugs relied upon by hospitals across the U.S.
The Project
Nexus selected Pleasant Prairie as the location for its first sterile drug manufacturing facility. The new facility will support the production and supply of drugs in an array of therapeutic areas, including anesthesia, oncology, cardiovascular and neurology. Nexus' proprietary products are currently contract-manufactured by third-party providers located primarily in Europe and the U.S. In the project's first phase, Nexus will build and equip a 100,000 square foot, three-story production operation, construction of which will begin in August and be completed by 2021.
The Wisconsin Economic Development Corporation (WEDC) is supporting the project by authorizing up to $1.5 million in state income tax credits over the next four years.
The Outcomes
The new development by Nexus in the Prairie Highlands Corporate Park is expected to be an approximately $85 investment.
Nexus will hire 77 workers in the fields of high-tech production, engineering, quality control, and supply chain management, at an average annual salary of $70,000.
"We are proud to call Wisconsin the new home for our company's first manufacturing facility."
– Mariam Darsot, CEO, Nexus Pharmaceuticals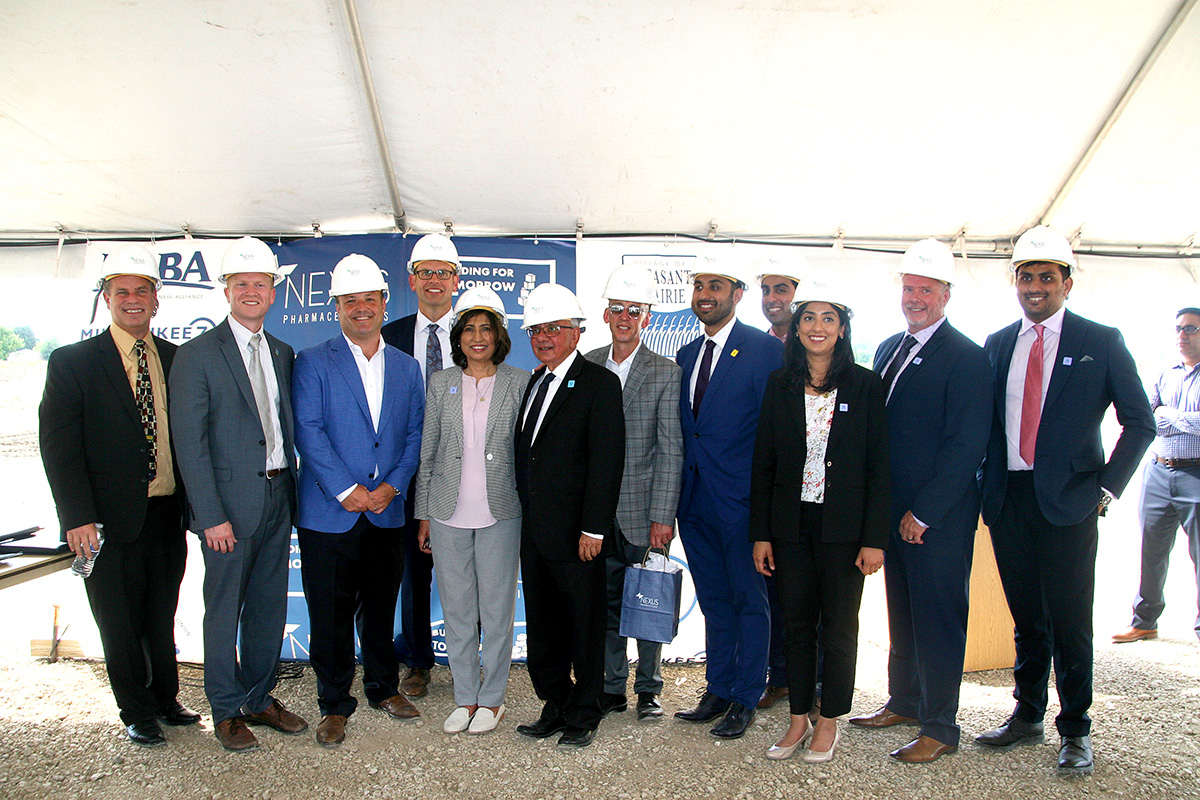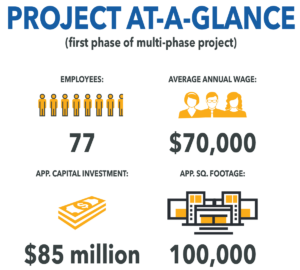 Uline
The Company
In 1980, after recognizing a need for a local shipping supply distributor, Liz and Dick Uihlein founded Uline in their basement. More than three decades later, Uline is in a high-growth mode. It is the leading distributor of over 30,000 different shipping, industrial and packing materials with operations in more than ten cities and more than 4,000 employees across North America.
Uline moved its corporate headquarters and significant operations to Pleasant Prairie in 2009, and has since doubled its footprint – adding buildings, capital investment, and jobs.
The Project
In 2009, Uline built a 274,000 square foot corporate campus and adjacent one million square foot distribution center in Pleasant Prairie. They had previously been headquartered in Waukegan, IL.  Just five years later, the thriving company announced several expansion plans which added up to more than 2.25 million square feet of new development.
Currently under construction are a new 200,000 square foot office building, which will double the size of their corporate campus, and an additional one million square foot distribution center.   A newly constructed convention center at its corporate campus was recently completed.
Uline also relocated its Midwest Distribution Operations from Waukegan to Kenosha. They built a 60,000 square foot office building and adjacent one million square foot distribution center on 200 acres on the western side of the City of Kenosha. They recently announced plans for another 800,000 building at the site.
The Outcomes
Uline expects that their most recent expansion plans in total will be a $100 million investment which will create 500 new jobs. Uline is now one of Kenosha County's largest employers with a workforce of more than 2,500 here.

"We are lucky to have a State that supports the spirit of entrepreneurship that our family and company thrive on.  Additionally, we have been able to find the talent to continue to grow our company."  
– Liz Uihlein, President, Uline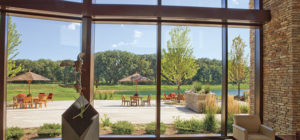 Nosco
The Company
Nosco is a 100+-year-old packaging manufacturer serving 400 customers in the healthcare industry. The company has seven other sites throughout Illinois, New York, Pennsylvania, and Texas with 650 employees nationwide.
The Project
Nosco is relocating its headquarters from Gurnee, Illinois to Kenosha County, where it will also co-locate a new production facility that the company call its "flagship operations".
Nosco's new 170,000 SF facility will provide offset cartons, digital labels, as well as serving as the corporate headquarters for Nosco. The site will also house the company's graphic services, solutions engineering and the administrative staff. The company will begin operating at its new facility in Pleasant Prairie's LakeView Corporate Park in July 2021.
The Outcomes
The project will bring nearly 300 jobs to Kenosha County.
"Nosco is growing and this move allows us the room we need to grow to support our healthcare customers. We are looking forward to supplying cartons and labels in 2021 to our customers throughout the U.S. from this new facility in a strong business community like Pleasant Prairie."
— Craig Curran, President, Nosco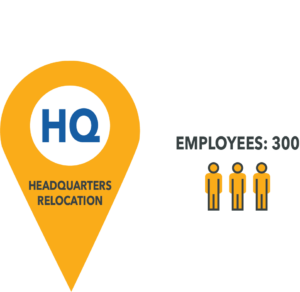 R + D Custom Automation
The Company
R+D Custom Automation is a privately-owned U.S. provider of fully customized automation systems previously located in Lake Villa, IL.
The Project
R + D is relocating to a newly constructed 62,000 SF production facility in the Salem Business Park in Western Kenosha County. The building will feature 24 foot ceilings, a centrally located engineering hub, and the addition of a state-of-the art water-jet machine. R+D is planning for occupancy of the new facility in Summer 2021.

The Wisconsin Economic Development Corporation (WEDC) authorized the company to receive up to $350,000 in Business Development Tax Credits as part of the incentive package. R+D also received a $350,000 forgivable loan from the Kenosha County High Impact Fund administered by KABA.
The Outcomes
The project represents an investment of approximately $6 million and will bring nearly 60 jobs to Kenosha County, many of those in highly-skilled positions.

"Our new location provides us with up to 100,000 SF for future expansion, ensuring that both our immediate and long-term needs are being met –including additional room for expanded parking, docking and shipping set-up."
– Loren Esch, CEO, R + D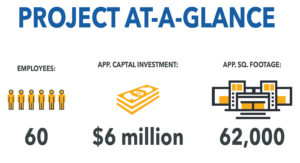 The Kroger Co.
The Company
The Kroger Co., based in Cincinnati, OH, is the nation's largest grocery retailer. They have partnered with U.K.-based Ocado, one of the world's largest dedicated online grocery retailers, to accelerate their ability to provide customers with anything, anytime, anywhere.
The Project
Kroger chose the Village of Pleasant Prairie as the sixth location for their Customer Fulfillment Center (CFC). The CFC model – an automated warehouse facility with digital and robotic capabilities, also known as a "shed" – will be replicated to serve customers across America. The new facility will help support home deliveries in eastern Wisconsin, the Chicago area and to South Bend, Indiana.
The 350,000 SF building will have a 300,000 SF warehouse with a connected, 30,000 SF office. It is currently under construction with a completion date in 2022.
The Wisconsin Department of Transportation supported the project with an app. $950,000 grant to rebuild portions of Highway H.
The Pleasant Prairie CFC is located on 88th Avenue off of Hwy H, just south of LakeView Technology Academy.
The Outcomes
The Kroger distribution center represents a $112.4 million investment and is expected to create up to 400 new jobs.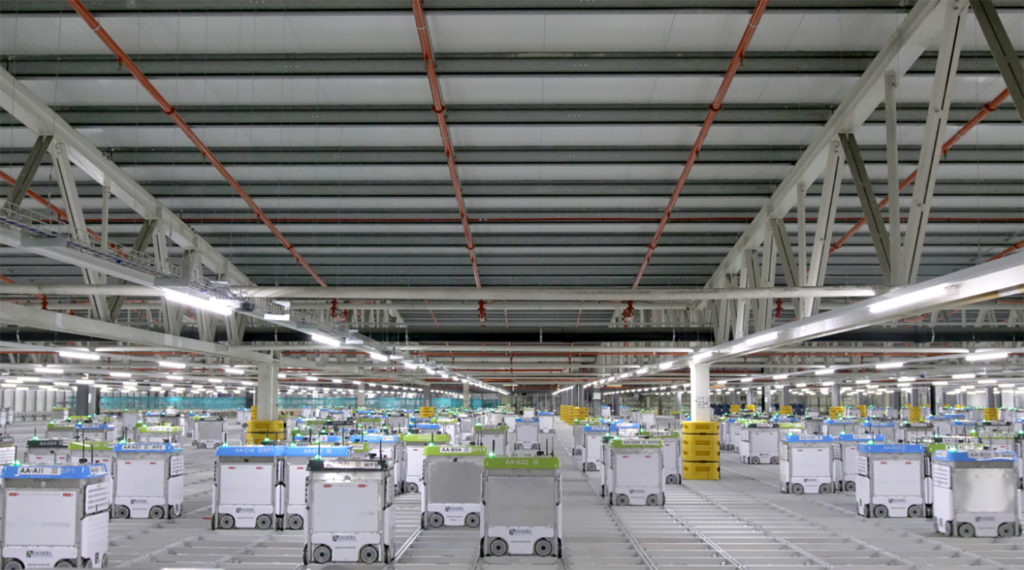 The number of employees could grow to 700 within five years.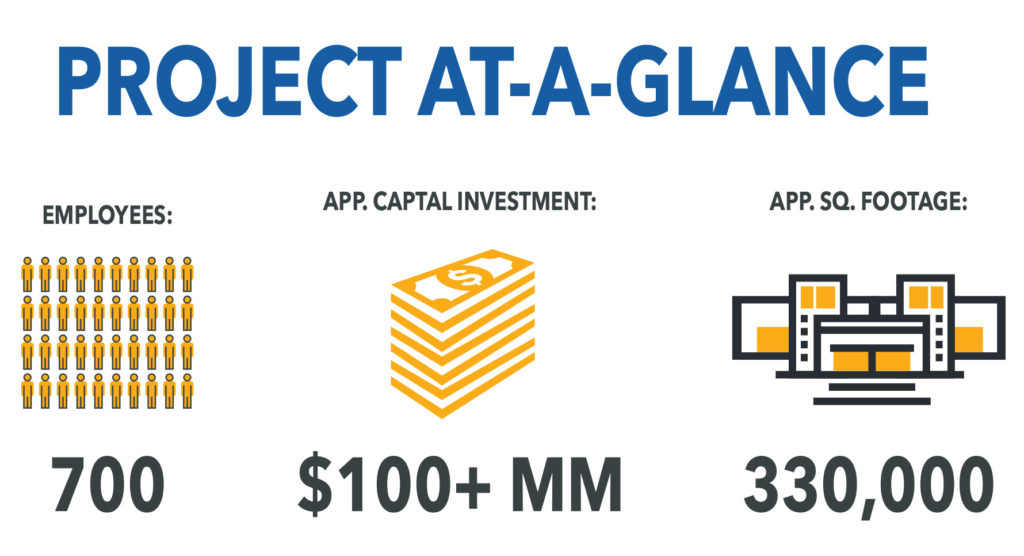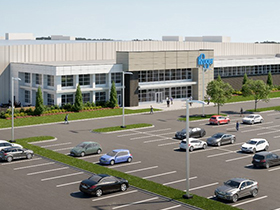 Kenall Manufacturing
The Company
Founded in 1963 by Ken Hawkins, Kenall Manufacturing produces and supports high quality and durable lighting solutions for the most challenging environments.
The Project
Kenall relocated its corporate headquarters and advanced manufacturing facility to Kenosha County from Gurnee, IL in 2015. Kenall constructed a 354,000 SF building in the Business Park of Kenosha.
Kenall Manufacturing selected Kenosha County after a highly competitive search for a site throughout the Greater Chicago Area.
The Noteables
The speed at which this project was built is impressive. Kenall "officially" kicked off construction with ground breaking ceremony on May 23, 2014, though some grading and site work had begun a few weeks prior. Construction of the facility was completed in the Fall of 2014 and the majority of Kenall's professional staff made the move to the new facility by the end of November. By year end 2014, Kenall was in full production at the new facility.
In 2017, Kenall Manufacturing donated $75,000 to the Gateway Promise initiative, which ensures that every student that qualifies can attend Gateway, regardless of financial ability.


"Wisconsin and the Kenosha Area were very business-oriented and extremely responsive in all respects.  We had a few locations to choose between, including some in Northern Illinois, but ultimately decided on Kenosha."
– Randy Hernandez, Executive Vice President, Operations, Kenall Manufacturing
Amazon
The Company
Amazon is a Fortune 50 online retailer headquartered in Seattle.  It is the largest Internet-based retailer in the world and the most valuable retailer in the United States by market capitalization.
The Project
After an extensive and competitive site selection process, Amazon chose to site a 1,000,000 square foot fulfillment center and 500,000 square foot sortation center on approximately 160 acres in the City of Kenosha.  The development was a $200+ million dollar investment.
A development-ready site, proximity to I-94, location within region, and competitive package of assistance drove their  location decision.
The Outcomes
Originally employing 1,500 people between both sites, Amazon has now grown its employment to more than 3,000.
"We appreciate the state and local elected leaders who have supported Amazon coming to Wisconsin and we look forward to bringing jobs and investment to the state."
– Mike Roth, Vice President of North America Operations

Amazon partnered with Gateway Technical College to establish an on-site facility to provide career training through its new Career Choice Program.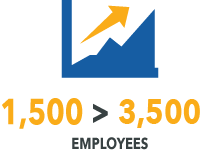 Amazon has grown its employment to more than 3,000.
Niagara Bottling, LLC
The Company
Family owned and operated since 1963, Niagara Bottling is the largest private-label bottled water supplier in the U.S.  The Ontario, Calif.-headquartered company got its start producing water in five-gallon glass bottles for commercial clients and in the early 1990s expanded operations to single-serve bottles.
The Project
After a multi-state search, Niagara selected Pleasant Prairie in Kenosha County for the site of its 19th processing plant. They officially opened the 377,472 square foot high tech manufacturing plant in April. Niagara's new facility is it's fastest and most highly automated. It features laser-guided vehicles that run most warehouse operations and machines that can produce 5.5 million bottles in a 24-hour period. The plant runs two production lines, packaging and distributing private label water for its customers as well as the Niagara label.
The Outcomes
The new facility built by Niagara was a  $75 million investment and brought 88 jobs to Kenosha County.
The Notables
Niagara Bottling went from a shovel-ready site to rolling its first bottle off the line in just 233 days.  President and CEO Andy Peykoff II praised the process as well as the new facility's strategic location and the responsiveness of the community at its recent grand opening event (pictured right). Plant Director Paul Schrock talked about the incredible workforce he has been able to find in the area, saying he was very pleased with both the quantity and quality of candidates.
Niagara Bottling went from a shovel-ready site to rolling its first bottle off the line in just 233 days.


"We are thrilled to expand into Kenosha County. This location is centrally located between Milwaukee and Chicago and is ideal to help us better serve our customers."
– Derieth Sutton, Economic Development & Government Relations Manager, Niagara Bottling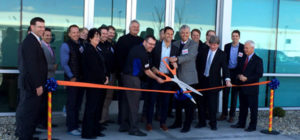 Good Foods Group
The Company
Good Foods Group is a manufacturer of all natural food products including guacamole, dips, salads and cold pressed juices.
The Project
After growing out of its space in Chicago, Good Foods searched the region for a location that would accommodate their projected growth.  They chose a 57,000 square foot building in the Village of Pleasant Prairie's LakeView Corporate Park as the site of its new advanced food processing facility and headquarters. They invested approximately $5 million and immediately employed 50 people.
Good Foods Group has thrived since relocating to Kenosha County.
The Outcomes
Since relocating to Kenosha County, Good Foods has continued its growth trajectory.  The company has expanded its product offerings, added approximately 400 employees, nearly doubled their production space with a 40,000 square foot addition and invested in numerous pieces of equipment.
Good Foods is an early adopter of High Pressure Processing (HPP), an innovative cold pasteurization technique, investing heavily in the processing equipment. HPP is a nonthermal technique in which the food in its final flexible packaging is subjected to high levels of hydrostatic pressure, inactivating its microorganisms, extending the shelf life and guaranteeing the food safety of the product.

"I can't imagine a better place to be situated for continued growth than here in Southeast Wisconsin."
– Kurt Penn, CEO, Good Foods Group