Kenosha County is perfectly centered.
Located in the heart of the Chicago–Milwaukee corridor along Interstate 94, Kenosha County benefits from its proximity to both metro areas while also staking its claim as an economic hub with a close-knit community.
Why is Kenosha County perfectly centered?  It has 3.5 million people within a 45-minute commuting distance and is within 400 miles of six major metropolitan areas.
Perfectly centered also means businesses, residents and visitors are able to have a more open space, less congestion, and a real sense of community, while still being able to spend a day in the City or access its major airports, transportation networks and other amenities.  Kenosha County is within the Chicago Metropolitan Statistical Area (MSA) because it is so close – but it's hard to forget that its still in the great state of Wisconsin.
Now that's an advantage.
But don't just take our word for it! Listen to the leaders at some of the companies who have recently chosen to locate in Kenosha County.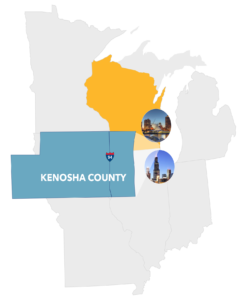 "I can't imagine a better place to be situated for continued growth than here in Southeast Wisconsin."
– Kurt Penn
CEO, Good Foods Group
Getting Around
Interstate 94 connects Kenosha County to Chicago, Milwaukee and many points in between and beyond while passenger rail connects Kenosha to downtown Chicago and the Metra Commuter Rail station is within walking distance of it's Downtown. A streetcar system travels a two-mile loop along the lakefront Downtown Area.
Commercial rail service is provided by Union Pacific and Canadian Pacific. Kenosha County has sites that are dual-served by both railways.
The Kenosha Regional Airport (ENW) is a 900+ acre facility owned and operated by the City of Kenosha. It is one of the busiest airports in Wisconsin. Kenosha Regional is also a designated reliever airport for corporate, freight, and general aviation activity for the Milwaukee/Chicago corridor.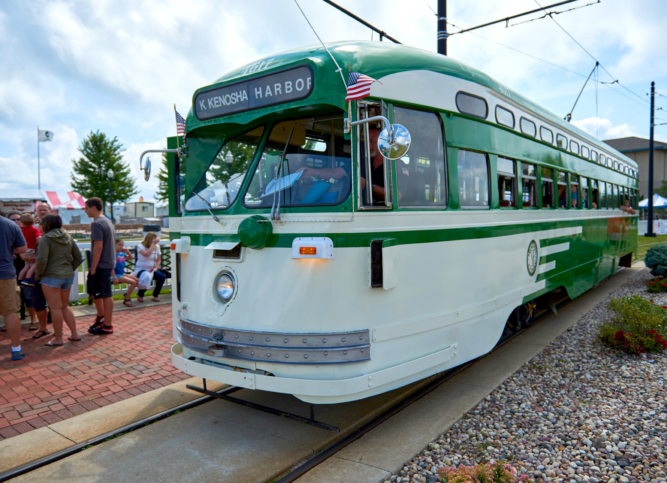 The Heart of the Chicago-Milwaukee Corridor
Kenosha is within eight hours of the some of the most industrious cities in the Midwest - a distinction that's essential for businesses with a national reach that need to export goods. I-94 connects the Kenosha Area with Minneapolis and the many spokes throughout the Chicago Area.
Being one hour north of Chicago and 30 minutes south of Milwaukee also puts Kenosha County within an easy commute of more than 3.5 million people.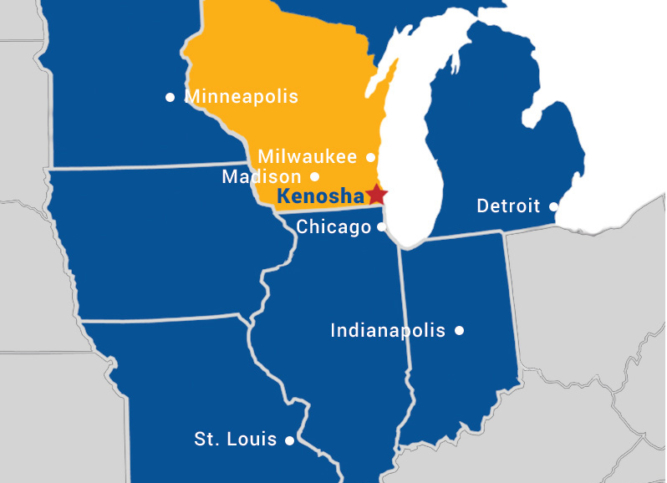 Lakefront Location
Kenosha County has more than 12 miles of beautiful Lake Michigan shoreline, with over eighty percent freely accessible to the public.
The Kenosha lakefront features six public beaches, two lighthouses, a harbor, a marina, miles of paved trails, water trails and the scenic Pike River which runs into the lake. Residents and visitors enjoy a wide range of waterfront activities including fishing, boating, swimming, walking and biking...and so much more!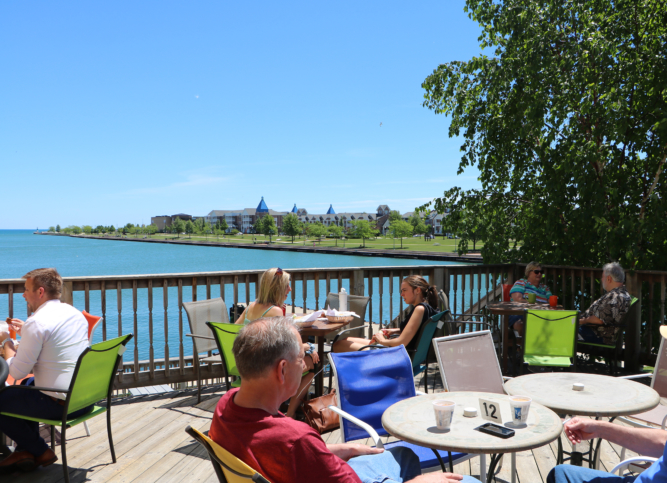 Travel Times From Kenosha To Regional Destinations
When we say we're close to Chicago and Milwaukee - this is exactly how close. If you need to catch a flight, transport goods, or bring in talent...it's all within an easy distance. There so much to see and do both in Kenosha County and near by - some of the best universities and healthcare systems in the nation, museums, restaurants, sports teams and so much more. The only challenge is deciding whether you want to catch a Packer or a Bear game.
Downtown Milwaukee (Bradley Center)
General Mitchell International Airport (MKE)
O'Hare International Airport (ORD)
Midway International Airport (MDW)
Downtown Chicago (Sears/Willis Tower)