Locations don't make things happen. People do.
Kenosha County is home to a young, growing population of talented residents. Over the past ten years, the county's 11% growth in population has outpaced that of the state and the nation.  And with a median age of 36, the talent pool of Kenosha County is younger than its neighboring counties in Wisconsin and Illinois.
"It's critical that we attract the very best talent – and we have those forward thinkers in the company."
– Deb Waller
CEO, Jockey International

Latent talent: Kenosha County exports thousands of workers every day
Even with the large, swiftly growing workforce, many Kenosha County residents commute outside the county to work. Nearly 46% of employed residents commute to a neighboring county or Illinois, representing a huge opportunity to for businesses to recruit and incentivize residents to work a little closer to home.  Take a closer look at our recent study analyzing out-commuter trends.
Kenosha County Out-Commuter Analysis
You're not alone: Coordinated and customized hiring assistance for employers
KABA makes it a priority to help new and existing employers find the talent they need to grow. It is working with its workforce partners to create a defined, collaborative strategy to prioritize and implement initiatives that will bring local companies the highly skilled and educated talent they need. This plan was developed with data and insights provided in the Labor Market Analysis of the Kenosha, Wisconsin Region – an analysis commissioned by KABA and produced by the W.E. Upjohn Institute for Employment Research. The analysis engaged numerous employers through targeted workshops and an employee survey that sought a better understanding of the economic and demographic aspects of the County's workforce.
Kenosha County Labor Market Analysis: Executive Summary

The heart of the Chi-MKE corridor: There's a lot of talent to draw from
Not only is there a huge opportunity to attract those who live in Kenosha County to work here, but more than 3.5 million people live within a 45-minute commuting distance from the county, representing an even wider pool of talent to contribute to Kenosha's rapid growth: approximately 3.5 million people wide!
Kenosha County Profile
"Kenosha County is booming right now. A lot of folks are looking to move into this area. It's a great place to be. There's great people here, and great talent to draw from."
– Jamie Hogan
President, Specialized Accounting Services

Education: Teaching today's students to become tomorrow's leaders
Home to three institutions of higher learning and access to a network of others, Kenosha County places a priority on education. In addition to awarding nearly 3,500 bachelor's and associate's degrees each year, University of Wisconsin-Parkside, Carthage College, and Gateway Technical College work closely with local businesses to implement real-world examples into coursework and connect talented students with internships and post-grad employment opportunities.
Education in Kenosha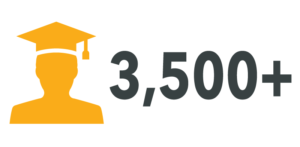 Upskilling: Cultivating highly skilled talent
Nationwide, many industries are facing a shortage of highly skilled and technical talent. In Kenosha County, that pool of talent is on the rise thanks to Gateway Technical College. Gateway offers technology-based career education specifically designed to meet employer and student needs.  Employers can hire a Gateway graduate, fill a student-internship position, take on an apprentice or benefit from customized training to increase productivity.
About Gateway Technical College