Local leaders give their insights on inspirational leadership
Countless leaders have guided Brandon Morris on his journey from the Lincoln Park neighborhood of Kenosha to basketball courts across the globe — as a player and now a coach, as well as a nonprofit leader.
On Friday (Oct. 15), Morris can learn from even more, as he joins University of Wisconsin-Parkside Vice Chancellor for Advancement Willie Jude to emcee the Kenosha Area Business Alliance's Inspire 2021 leadership development event at Journey Church, 10700 75th St.
"I'm super excited to be a part of this," Morris said. "I went to my first Inspire event in 2019, and right away it was an amazing experience. I usually see these things in Chicago, Houston, the bigger metropolitan cities. To have this right here in our backyard … that is just phenomenal. It's big time."
Joining Morris and Jude on the stage will be …
Kenosha.com caught up with Morris and Jude to gain their insights on leadership — and learn about some of the leaders who have touched their lives.
Morris: Family first, impactful coaches
Morris is a former St. Joseph High School (now St. Joseph Catholic Academy) basketball star who went on to play at the University of Wisconsin-Green Bay and with professional teams in six countries. Today, he is the head coach of the Tremper High School boys basketball team, manager of community engagement and college readiness for Building Our Future, and vice president of both Evolution Basketball and the Linda Faye Foundation Inc.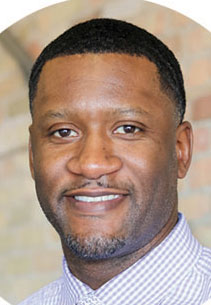 "With Building Our Future, I am trying to engage and empower parents, really trying to hit home that you have so many leadership qualities we take for granted as parents," Morris said. "I was telling a group of parents, 'You guys are actually running a company. You are the CEO. At Snap-on, that person is in the boardroom, just like you are in your house.'"
It's a mentality he learned growing up. More than through sports, Morris said he learned leadership skills from family members and "how they led our household."
"The leadership I got from my grandmother, my mother, my stepfather, it was really all about bringing people together, bringing family together — the importance of being with family," Morris said. "You only have so long to live. Make every day, every moment with family and close friends impactful. Make it meaningful."
Morris also models his leadership style on a number of coaches — and he's had plenty, from his time at St. Joseph and the University of Wisconsin-Green Bay to his professional playing days in New Zealand, Uruguay, Canada, Egypt, Qatar and the United Arab Emirates.
He cited two: Patrick Baldwin Sr., a former UWGB assistant who is now the head coach at the University of Wisconsin-Milwaukee, and Tony Moore, a longtime local club coach and nonprofit leader who has joined Morris' staff as an assistant at Tremper.
Almost two decades later, Morris still recalls Baldwin taking the time to help him study and complete homework in his office — even with his own family waiting at home.
"When I asked him for help, he didn't hesitate. All the other coaches had gone home," Morris said. "I got to see this different side of him. Every time I was doing homework in his office, his wife would call … and he would do baby noises, talking to his son."
Jude: Leadership through relationships, influence, education
Sports and family have also marked Jude's leadership journey. He said he is "humbled for the opportunity" to speak on Friday.
"Leadership," Jude said, "is about a relationship you build with groups of people who have common goals, and how you try to move them in a common direction."
"As I've been going through my journey in higher education, I've really learned leadership is more about influence, and it could be good or bad," he said. "If you can have some sort of positive influence on those you are working with and leading, you can build a healthy culture and really maximize everyone's gifts and talents."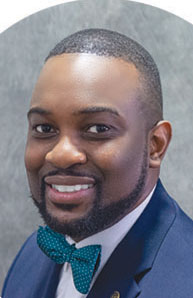 "I'm building relationships everyday. It takes time, but you have to be intentional about spending that time. When you are able to build strong relationships, you can get so much done. You have to take the time to learn about their why, to learn about their skill set. You can not fake genuine."
Jude called his career "a road less traveled." It started in Milwaukee, where he graduated from Madison High School. His father was the principal of the school for a time and would later become a deputy superintendent with Milwaukee Public Schools — the culmination of a life's journey that began as cotton sharecropper.
"The only way that was possible was through education," Jude said. "He and I have countless conversations about education. I have learned so much from him. He has always been a problem solver. He's always been consistent, he's always been fair. He taught me about being a lifelong learner. We are always retooling. There is always new knowledge — what are you going to do with it? It's a choice."
Jude was a football and track athlete in high school and at the University of Wisconsin-Oshkosh. He later coached both, and served as a strength and conditioning coach at Washington State University, where he obtained his Master's.
Read more at Kenosha.com.