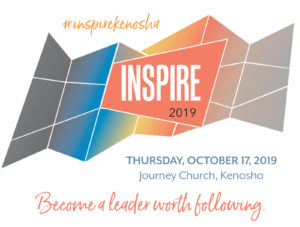 Inspire 2019 is an exciting opportunity for students to learn the power of positive leadership.
Join the business, nonprofit and education community for this one-day leadership development experience located in Kenosha!
Why should students attend?
This is a unique opportunity for students to connect with leaders in our community – as well as learn about intentional and positive leadership as told through national, regional and local inspirational speakers. Topics explored will include how to create energy and optimism in the workplace, how to lead through change, and how to make decisions that keep momentum going. Our speaker lineup will also highlight amazing stories of creativity, generosity and perseverance that will inspire all attendees to be your best self for your team, your family and your community.
The Inspire conference is a fun learning opportunity for students to gain an understanding of how leaders make decisions, lead their teams, and influence the community. Students can expect:

Special student rates available!