Here to help local employers find the talent they need.
Increasingly long term economic development success hinges on a community's capacity to support the human resource needs of business and industry. As KABA keeps its foot on the accelerator with respect to economic development, we must also intensify efforts to develop, retain and attract talent. This is a focal point for KABA in 2017 and beyond as we work with employers and education and workforce development partners to address this issue.
In 2016, KABA commissioned the Kenosha County Labor Market Analysis to better understand the current labor market, its advantages and potential challenges.  It also developed the Kenosha County Out-Commuter Analysis to understand our commuting population. KABA and its partners are using this detailed data to guide its efforts to help employers find they talent they need to be successful.
Kenosha County Labor Market Analysis     Kenosha County Out-Commuter Analysis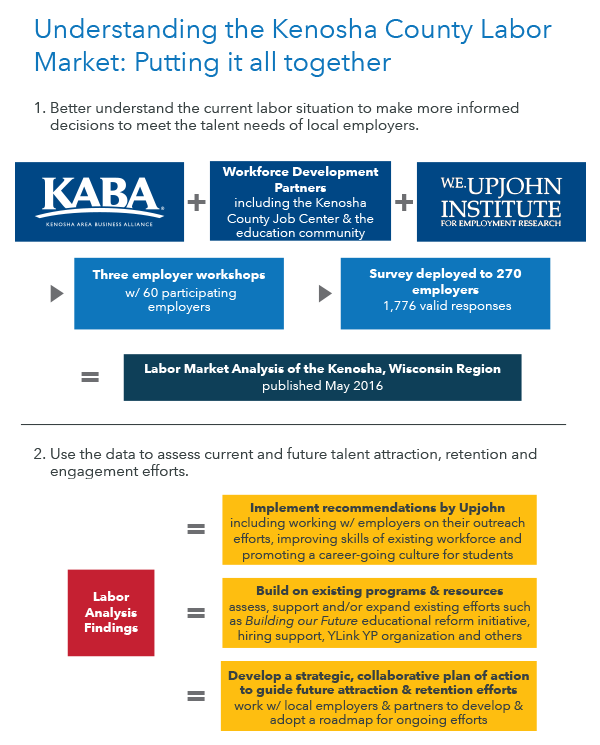 Working in tandem with our partners
Whether you're looking to establish business roots in Kenosha County, or you've been a part of the fabric of our business community for years, understanding the appropriate resources to get, keep and train a talented workforce will always be important. KABA has curated strong relationships with our local workforce partners and can convene the experts you need to help with your workforce and training needs.
Kenosha County Workforce Resources
Hiring blitz events
Hiring Blitz Events are customized for new or expanding companies that will experience a high demand to hire 100+ high-quality, qualified employees quickly. It's a value-added activity that allows the company to be introduced to the community in a high-profile manner. Likewise, attendees (job applicants, media, community officials, etc.) gain a better understanding of the company's culture, job opportunities and plans to grow in Kenosha County.
Companies who offer hiring blitz events can build greater awareness about their brand, corporate culture, and job openings – often before they even have a physical presence in the community. These events also allow the community to showcase its assets, including its workforce, post-secondary institutions, unique venues and other economic development resources.
KABA co-coordinates the events with the company, the Kenosha County Job Center, local colleges/universities, and the local media.  In many instances, employers offer jobs onsite, the day of the event.
Success Stories: Kenall Manufacturing
In 2014, advanced LED lighting manufacturer Kenall relocated and expanded their entire operations from Gurnee, IL to a newly built 354,000 SF facility in the Business Park of Kenosha.  They needed to have 400 employees trained and in place by the time they opened their new facility. Kenall expected quite a few of their current employees to remain with the company and make the commute to Kenosha – but still had to hire approximately 120 employees locally.
In addition to internal efforts, KABA assisted them with a hiring blitz event prior to the opening.  As a result, Kenall hired approximately 100 people and overall, 80% of hiring needs met within first year.
Success Stories: Vonco Products
As the first development in the Salem Business Park, flexible packaging manufacturer Vonco Products, needed support in unveiling the company's brand and attracting additional employees to the new, 80,500-square-foot HQ location in western Kenosha County. KABA and its workforce partners helped share information about the community to aid in their retention efforts prior to the move. Additionally, KABA coordinated a recruitment event and open-house to help the company ramp up its need for additional production workers. More than 60 job interviews took place the day of the event, with subsequent hiring offers for key positions.
Accessing the Nontraditional Workforce
Developing an inclusive workforce is an effort KABA and its partners support. We encourage employers and other organizations to utilize resources that support underrepresented populations of the workforce. KABA can assist in making connections to the organizations equipping individuals with career-readiness skills in order to secure gainful employment.
Discover more about accessing the nontraditional workforce
Continuing education for employers
As employers work to become more proficient and competitive in their talent attraction and recruitment strategies, KABA works to provide opportunities to learn from subject matter experts and talent within our own local business community on talent trends, such as through workshops, conferences and roundtable sessions for employers and experts in human resources.
Success Story: Let's Talk Talent! Conference
The Let's Talk Talent! Conference featured multiple sessions led by talent and attraction experts focusing on topics such as: how companies can create a culture that
attracts people;  what local companies are doing to attract and retain employees (panel discussion); and what millennials want from their workplace and communities.
Attendees also left with resources to help them attract and retain talent to their organization.
Kenosha Area Talent Attraction & Retention Toolkit

Connections with local educational institutions
One of Kenosha County's competitive advantages is the spirit of collaboration that exists throughout the community.  KABA works closely with the education community to ensure they're graduating students with the skills and education needed to be contributing citizens and successful employees.  We act as a liaison between business and education and helps students explore new careers and consider Kenosha as the place they want to live and work.
Success Story: Company tours for local high school students
Tours of area manufacturing employers provide students, parents and educators the opportunity to explore and understand careers in manufacturing in Kenosha County. They learn about career paths, salaries and the education required to succeed in today's manufacturing environment.
In 2016, students from Lance Middle School and Bradford High School toured InSinkErator's Kenosha facility, Niagara Bottling and the Gateway Technical College SC Johnson iMET Center.  KABA has also worked with Indian Trail, Wilmot Union and Tremper High Schools to host other tours at: Centrisys Corporation, Kenosha Wastewater Treatment Plant, Bradshaw Medical, Five Star Fabricating, LMI Packaging, Rust-Oleum, IRIS USA, Allied Plastics, ASYST Technologies and Ocean Spray.

Life Balanced Kenosha County
KABA and its partners believe that attracting talent to the area is essential to the continued success and growth of Kenosha County.  The Life Balanced Kenosha County Initiative seeks to enhance the marketing of the community and be an important resource for employers looking to attract talent from the more than 3.5 million people within commuting distance of Kenosha County – and beyond.
Working in partnership with several area organizations, KABA launched LifeBalancedKenosha.com.  The online resource is designed to attract highly educated and skilled professionals to live and work in Kenosha County. The website captures the essence of living in Kenosha and serves as an online destination and resource for anyone considering making Kenosha their home.